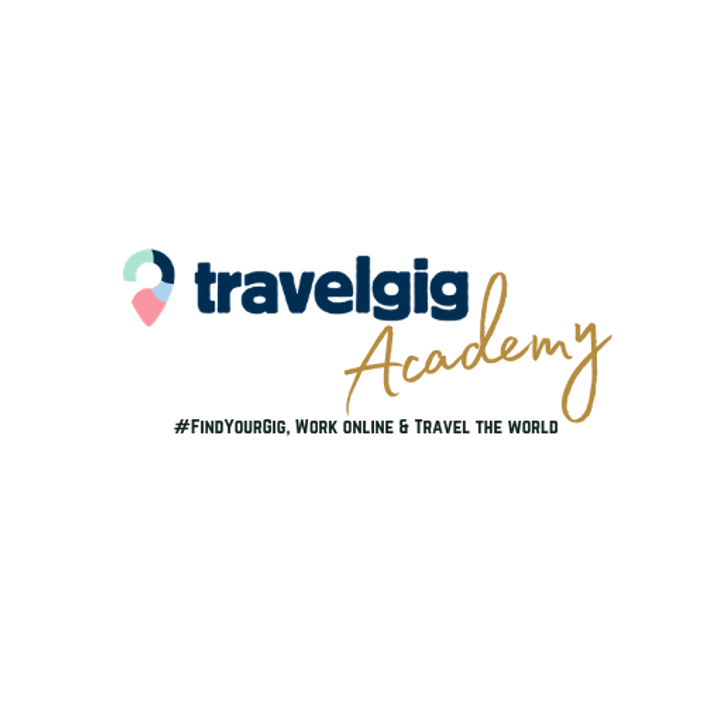 The Travel Gig Academy: Remote Biz & Lifestyle Kickstarter Program
Learn how to take your existing skills and experience to build a successful remote business & lifestyle that gives you the freedom to travel the world
Enroll in Course
IMAGINE THIS:
You can FINALLY stop living for the weekend and escape that uninspiring 9-5 cubicle life.
Waking up on Monday (and every other day) getting excited about work!
Feeling fulfilled and rewarding with all the work that you do and actually doing things that matter to you.
The total FREEDOM to design the days the way you want it to be - work from anywhere you want, when you want to and most importantly work on projects and clients that are aligned with you rather than saying yes to everything!
Actually creating a SUSTAINABLE location-independent business and lifestyle where you are making CONSISTENT online income through your remote biz because you have a SOLID money-making business strategy and frameworks.
People don't want to be millionaires.
They want to experience what they believe only millionaires can buy.
Does this sound familiar to you?

You're feeling stuck and lack of directions. You want to discover your purpose, challenge the status quo, while yearning to create a freedom lifestyle but you don't know where to start?
OR You are so over your 9-5 cubicle life and want to stop living for the weekend. You are trying to get from where you are now (still a 9-5 full-time job) to freelancing and making enough money to support yourself from your online business.
You crave the freedom lifestyle which means you're ready to design your own lifestyle so that you wake up every morning with joy!
If you are sick of living life on autopilot and not reaching to your full potential and doing things that light you up from the inside.
BUT - you are skeptical if this lifestyle is actually sustainable and whether you will make a substantial income to maintain this lifestyle Can you actually get a decent enough remote gig to be financially sustainable?
OR, you're sick of browsing through random job boards and competing with others to find consistent gig?
DID YOU JUST SAY "FUCK YES" TO THE ABOVE?
If you did, then you are definitely in the right place!
I hear you and I totally get you!
I have been in the exact same spot as you 3 years ago - stuck in a corporate job (which I thought was my "dream career") that I hate, feeling so uninspired, unfulfilled and was living for the weekend. Then, 6 months after taking the leap, I felt like I have plateaued and this whole remote work/ location-independent lifestyle didn't look too sustainable after all.
Fast forward, I generated $50k in revenue 6 months, got clients across Australia and APAC with my longest client flying me over to Singapore in May to cover the LIVE social media for their 2-day conference!
AND GUESS WHAT?
If I can do it, YOU CAN DO IT TOO!
TGA IS FOR YOU, IF
You're prepared to put in the work to build your location-independent business and lifestyle.
You are so over your 9-5 cubicle life and want to stop living for the weekend.
You're a beginner and you're struggling to determine how to transition your existing skills into a successful remote business
You want to learn the top strategies and our proven systems on how to take your skill and experience and turn into into your own successful online biz so that you can fast-track your success and work from anywhere in the world!
You crave the freedom lifestyle which means you're ready to design your own lifestyle so that you wake up every morning with joy!
You've always wanted to start your own online, remote business but you have no idea where to start – like how to determine the core offer for your services, successfully land clients and make consistent income online.
TGA IS NOT FOR YOU, IF
You already have an established and successful online biz and are looking to grow and scale.
You "don't have the time" to put in the work and effort right now. If you can't commit to taking action to implement what you learn in the course, then this is probably not suited for you.
You're looking for a make money quick solution.
If you don't see the value in investing in your personal and professional growth then this course is probably not for you.
You want to open an Ecommerce drop shipping or Amazon FBA business.
STILL NEED A LITTLE MORE CONVINCING ON WHY SHOULD YOU BUILD A SERVICE-BASED REMOTE BIZ?
Remote work or fluid workplace is THE FUTURE OF WORK.
Serviced-based business is the quickest way to utilise your existing skills and turn it into a profitable online business. It requires a lot less time and capital compared to a personal brand business or an ecommerce business respectively.
Freelancers now make up 1/3 of the US workforce and that number is growing. According to a recent study by Upwork, 48% of companies use freelancers (up from 43 a year ago), while work done by freelancers increased 168%.
Most importantly - YOU are your own boss and you're in CONTROL of everything! That means that all the effort, energy and input you put into your business will give you a direct output + results (You're not helping another executive in your 9-5 to buy his 5th holiday house in the Hamptons!)
What do you get for your investment?
You will get lifetime access to:

INSTANT ACCESS to over 30 In-depth video trainings, proven templates and worksheets that make taking action a breeze. that will give you step-by-step instructions on exactly what to do and how to do it. (Valued at $1,735)

PLUS new and updated modules and training BONUS (valued at $1,777)

The TGA curriculum - which means you get access to all future updates for FREE
AND
Master your mindset, develop the soft skills and confidence you need to finally turn your existing skills and experience into a profitable remote business.
Learn how to use the unconventional way to find your clients
Even if you don't have a remote business (yet), learn the MUST-HAVE fundamentals of how you can start and run a business
Frequently Asked Questions
How long do I have access to the course?
How does lifetime access sound? After enrolling, you have unlimited access to this course for as long as you like - across any and all devices you own. This includes any future UPDATES, for FREE.
Do you offer refunds?
Refunds are given only when requested by email, by a student who has purchased the course less than 14 days prior, and has viewed less than 20% of the course. Whether or not you click on the COMPLETE & CONTINUE button, makes no difference. The rule applies once you access 20% of the modules in the course, whether or not you view the videos. Absolutely NO exceptions!
How many hours do I need to invest each week?
As many hours as you need! However - if you want to go at the pace of the 6-week program, expect that each module will take 1-2 hours (with mindset work taking a little longer)
Who's the perfect student for this course?
The perfect student for this course is someone who is interested in starting a location-independent service-based business. This means that you are (or want to be) a marketing consultant, graphic designer, social media manager, web developer, VA, freelancer, photographer, project manager... looking to grow a remote client base. Any type of profession that involves working with clients, really!
Your Instructor